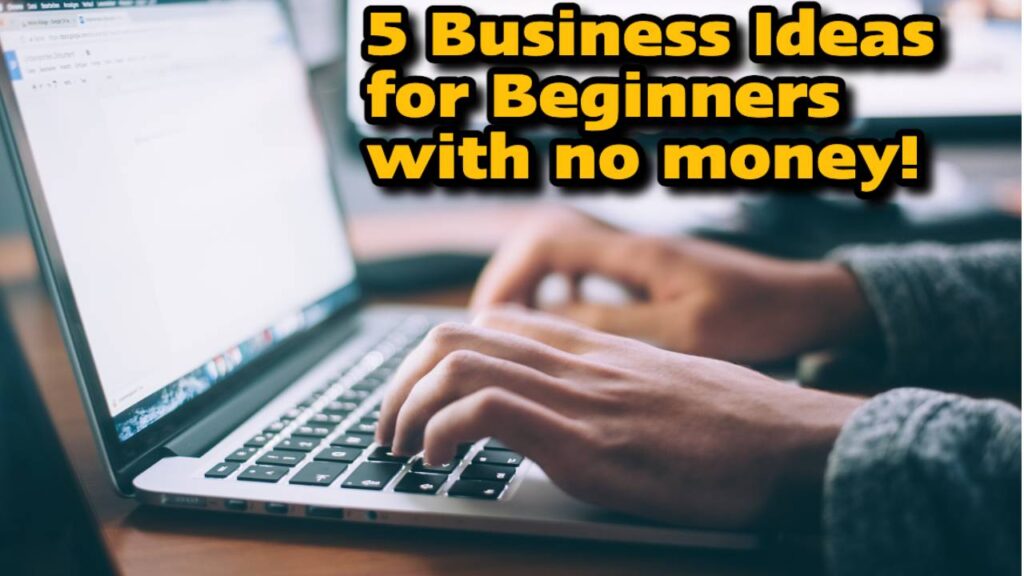 Her are the best 5 Business Ideas for Beginners with without money that you can start now and a decent living.
1. Freelance Sites
Freelancing is one of the easy ways to earn money online without any investment of money.
You can sell your services like copywriting, website designing, video editing, programmer or marketing consultant, etc.
With sites like Fiverr, Upwork you can easily start your online business.
You can just create a profile with the gigs you can do and also determine your price.
You can take inspiration from other profiles on Fiverr as well to design your profile and post gigs.
Once you post the services you can do, customers will contact you to fulfill them and pay you.
You can chat, collect payments with clients within Fiverr itself.

The more gigs you do the more you earn and the more your seller rank goes up and the more Fiverr promotes your gigs.
As your seller rank increases you can charge more that could be $50-$200+ instead of $5-$15 each.
You can also try Upwork which is for more established freelancers and it is one of the largest freelancer sites in the world.
There are people who charge more than $100 per hour based on the work. You can start with both and see what's working for you.

This is a complete work from job, you can sell just about any computer-related skill on these freelance sites.
Freelancer is also another popular site that you can try out to get a gig and sell your service.
2. YouTube Channel
Youtube is the second most popular search engine on the internet, which you can use to earn money from the comfort of your home.
I recommend you to do a keyword-optimized YouTube channel because it will be much easier to get discovered on youtube search without spending money on promotion.

There are many examples of channels like Jerry Rig everything, Marques Brownlee's, Mr Whose the boss.
These channels work very well which amass a lot of views as the content is evergreen.
Which means they will never run out of products to review.
videos won't have much competition because they're for specific products that have just released.
And most of the products are sponsored which means no investment at all and you will get millions of views.
And advertisers of youtube pay a lot to put advertisements on your videos as you will reviewing latest tech which attracts a lot of buyer's audience.
These are just some of the examples of keyword-rich YouTube channels.

You can apply similarly to gaming, tutorials, news, and much more!
Gaming has a lot of scope as well on youtube that earns quite a bit of money by ranking videos for keywords is Boss Fight Database.
the person who runs this channel basically fights a video game boss in each video and shares his experiences as he plays the game, and the titles of the video are named after the boss.
There is a little competition on that titles and keywords with certain parts of games, and making good money from it.
If you think making youtube videos is a fit you can start your own youtube channel, you just need to figure out on which niche you are good at and figure out a way you can easily rank.
3. Print-On-Demand Merch
If you are a creative person then this would be an amazing business that you can start without any investment.

You can easily start this business from home without any investment i.e by designing original graphic design and you can sell it on physical products like t-shirts, coffee mugs, hoodies, towels, phone cases, etc.
The nice part about print-on-demand is you don't have to get a huge order of products from a manufacturer before you've sold a single one.
The products arent created until someone places order on your design.

There are many websites teesprings and also merch by amazon where you can upload your designs.
The advantage of these websites is they will print the product, pack, ship and collect the payment for you in exchange for a fee on every sale.
There is also free marketing in their platform itself where you can market. It is way more easier.
There are a lot of places where you can get inspirational ideas from:
You can create designs on your own or can get designed by a graphic designer if you have ideas.
You can easily do it yourself by using Canva or PicsArt by using their free templates or hire people to compete for the best design on a site like 99designs.
Once you have the design created, you can create a free page on Teespring or u can use merch by amazon and you just need to drive traffic to it.
You can leverage social media platforms like Instagram and youtube, etc to drive traffic to your merch or post designs on social media to get sales.

You can get a portion of sale price form the site you have made the merch page.
4. Handy Work for Locals
You can be a handy man in your local area and get paid handsomely, Only if you don't mind getting your hands a little dirty.
There are websites like Handy, where you can earn money by doing regular tasks like mounting, assembly, lawn care, etc.

You can earn up to $22/hour/job for cleaning job
$45/hour/job for handyman work.
$62/hour/job for lawn care and so on.
Within the app you can get payments, schedule and messaging with clients, etc.

TaskRabbit is also a popular website for almost the same exact work.
5. Social Media Sponsorships
If you are a creative person and always stay in online then this role will fits you the best.
You can make money from sponsorship from being a social media influencer.
If you have good social media followers like on Youtube or Instabgram or Tiktok, You can easily monitise your followers.
You can promote products or company by posting about them or do a paid shoutout in your post.

With sponsor posts you can easily earn money by partening with brands and also doing affiliate marketing for them.

If you made a deal with Starbucks you can share photos or videos of drinking coffee in your next post or video.
You would be paid for sponsorships based on the number of followers you have, for doing shoutouts or brand collaborations
You can create a nice business being a social media influencer without investing any money.
Ther are many brand handling platforms that provide brands that you can collaborate like iFluenz to partner with brands for sponsored posts.
Or you can check out Shoutcart if you want to get paid to give shoutouts.